Sangha-building in the Peak District
Thank you to Andrea from Sangha in the Peak for the article below:
A wonderful new sangha has formed recently in the Peak District with meetings in the villages of Tideswell and Litton in Derbyshire.  Sangha in the Peak was built with the support and guidance of facilitators from our neighbouring sanghas in Chesterfield and Stockport.
A group of people interested in building a sangha in the Peak District first gathered in April 2018. We already had the benefit of having met through a local mindfulness group and with the kind support of the Chesterfield Sangha we enjoyed a facilitator's workshop. We initially practised as a closed group for people who were already familiar with the practice in order to establish ourselves and develop a solid core. Five months later (we didn't rush the process) we celebrated our beginning with a day of mindfulness which  included a sangha meeting, a shared lunch and a mindful walk in the beautiful local Tansley Dale, famous for its orchids.
We now meet twice a month with a rota of facilitators and supporting buddies. Our core is strong and we now have the confidence to guide new attendees through meditations and sharings. Everyone is welcome including visitors to the area.
Find us on the Plum Village interactive find a group map or contact us directly by emailing Andrea at sanghainthepeak@gmail.com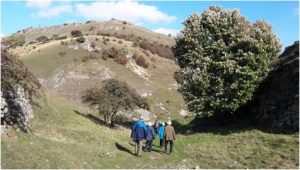 Mindful walk near Litton in the Peak District ~ September 2018