True Virtue: Sister Annabel's autobiography published
Sister Annabel Laity grew up in the UK and in 1988 became the first Western person to be ordained as a monastic disciple in Thich Nhat Hanh's Vietnamese Zen lineage. She was given the Dharma name Chan Duc, which means True Virtue. Thirty years later, Sister Annabel is a much-loved senior Dharma teacher in the Plum Village community. She teaches and leads retreats worldwide, and is widely recognized as an accomplished and insightful Buddhist scholar.
We are very happy that Parallax Press has recently published Sister Annabel's autobiography entitled True Virtue: The Journey of an English Buddhist Nun.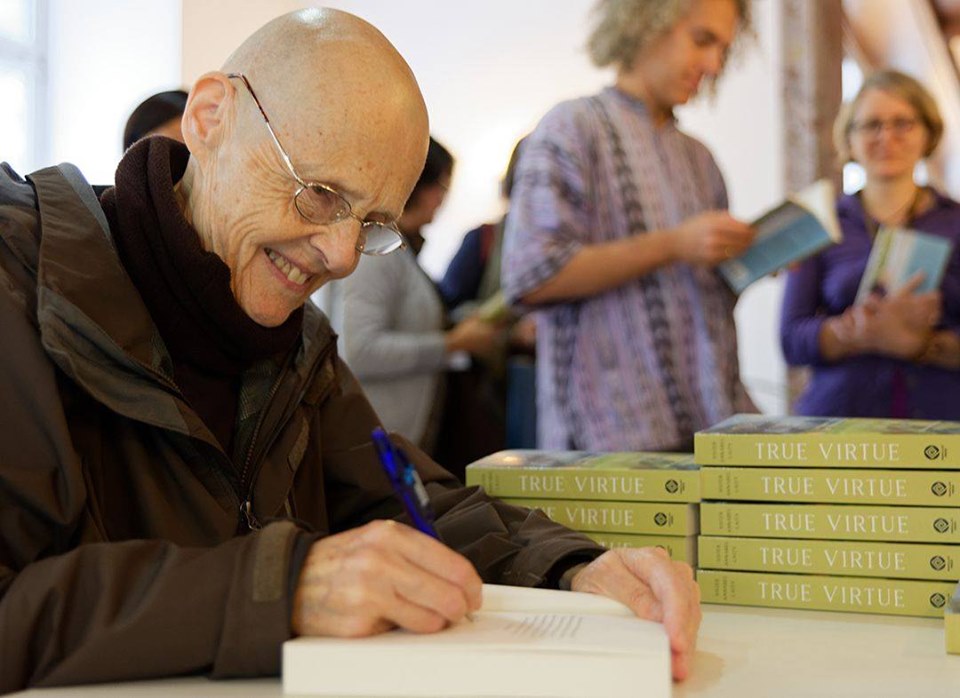 What People are saying
"I met Sister Annabel Laity when she helped organize Thich Nhat Hanh's first teaching tour to the United Kingdom more than thirty years ago now…. I have seen her transform from a shy young woman into a formidable teacher of the Dharma. Reading True Virtue has taught me so much about Sister Annabel and her qualities of faith, determination, and tenderness."
—Sister Chan Khong, cofounder of Plum Village Community of Engaged Buddhism, director of Plum Village international humanitarian projects since the 1960s, and author of Learning True Love
"More than a personal biography, this is a first-hand account of the early years of Plum Village and the unfolding of Thich Nhat Hanh's vision and the activities of the Order of Interbeing. Ven. Annabel recounts her early years as a monastic and her subsequent life helping Thay to realize his aspirations in spreading the cultivation of mindfulness and compassion in all directions throughout the world."
—Jetsunma Tenzin Palmo, author of Reflections on a Mountain Lake and subject of spiritual classic Cave in the Snow
"Sister Annabel's poignant memoir is a powerful and much needed reminder in these tumultuous times of the strength to be found in cultivating stillness and mindful attention to the present moment…. A moving testament to the courage and deep compassion of those who follow Zen master Thich Nhat Hanh's path of Engaged Buddhism in the world."
—Christine Toomey, Amnesty International award-winning journalist and author of In Search of Buddha's Daughters

"A rich and timely book about the spiritual journey of a Western Buddhist nun…. The author details her spiritual encounters and her learning in an intimate and fluid way. We are fortunate to meet the life of True Virtue."
—Roshi Joan Halifax, Ph.D., founder and abbot of Upaya Zen Center and author of Standing at the Edge
"A a spiritual journey with many twists and turns…. Sister Annabel's candid remembrances of interbeing with Thich Nhat Hanh and his community are heartwarming, innocent, and evocative."
—Karma Lekshe Tsomo, Ph.D., cofounder of Sakyadhita International Association of Buddhist Women and editor of Buddhism through American Women's Eyes
"There are still so few full autobiographies of Buddhist women, and this one is a treasure, her luminous voice expressing the depth of her practice and the flavor of so many decades steeped in the Dharma."–Rev. Zenshin Florence Caplow, coeditor of The Hidden Lamp: Stories from Twenty-Five Centuries of Awakened Women"
"We are in dire need of more stories from accomplished female practitioners, showing us how they've managed to navigate the path. I'm grateful to Sister Annabel Laity for giving us a window into her spiritual evolution … from her childhood in England, to helping build a monastery in India, to the early days of Plum Village. Refreshingly forthright and practical … there's much we can learn on these pages about the joy of living mindfully."–Andrea Miller, editor of Buddha's Daughters: Teachings from Women Who Are Shaping Buddhism in the West
"Sister Annabel lives and offers the dharma with grace, charm, and integrity. Such an inspiring role model is precious and rare. As a British Dharma teacher, I am full of gratitude for her support and wisdom…."–Vari McLuskie, Order of Interbeing Dharma teacher and mindfulness trainer in leadership and organizational development
"A fascinating glimpse into the formation of a great teacher … touching, inspiring, and frank… Sister Annabel manifests a quality of deep authenticity and offers a beautiful example for teachers." —Orlaith O'Sullivan, PhD, intern —Sister Jina Chan Dieu Nghiem, Order of Interbeing senior Dharma teacher, former abbess of Plum Village Lower Hamlet
An extract from the book
Buy True Virtue
True Virtue is available to buy from the Plum Village UK Book Service