Towards Racial Healing and Justice: Buddhists across Traditions
Imagine for a moment that every morning as you rush off to work, you see your neighbour beating the dog. Then one day, you have time, you pause for a minute and watch the dog being beaten. What happens, how do you experience that? In this scenario, who is traumatised? Is it the dog? Is it the neighbour? Is It you? And what do you do with this experience?
Every day these traumas play out in all our lives – every day we inflict harm on others, every day, black, indigenous bodies bear the brunt of systemic inequities stemming from carefully cultivated narratives, histories and ways of being that preys on our fears, unhappiness and cravings – distracting us from seeing things or questioning ways of being.
It took this pause, this pandemic, for every one of us to truly witness, experience, and question the racial injustice and systemic inequalities that are disproportionately impacting indigenous, black and brown lives. These injustices of race, class and caste are not new, they have been cultivated over centuries, building and layering trauma and pain of the many to assuage the suffering of a few.
The senseless murder of George Floyd, would in other circumstances have been a paragraph in busy, activity-filled lives, but became a fully-loaded and symbolic call to act – it highlighted how from the USA to Africa, across oceans and continents, black, brown and indigenous breath and lives are easily disregarded, devalued and discarded on a daily basis.
These events of pain and differential treatment touched us all, not only highlighting the criticality of the breath, but also awakening our own seeds of suffering and trauma. Our feelings – whether anger, fear, shame or guilt, drove our responses and actions.
For some, a call to immediate action – an instinctive reaction to do something – anything for release. Others responded from a deeper healing, from places of compassionate and loving ways of being. How we act and engage is as important as why and what we do. "The means and the end are one," says Thich Nhat Hanh.
In this collectively heightened emotional time, it took a series of somewhat minor incidents that cumulated to rekindle the seeds of my own personal, historic and ancestral trauma. Old friends of shame, guilt and anger – seeds I thought I already healed, engulfed me. I was in rage – my mind a wildfire, my body quivering and shaking like a branch in a violent storm. I cried hysterically, each out breath a guttural howling.
My instinctive response for relief was to hurl this somewhere, throw it out, explode it elsewhere. It was the many years of mindfulness practice that helped me pause, breathe to come back to myself, to remember that reacting only rehearses the feelings, making a wound fester and grow.
I was overwhelmed by the texture, the weight, the speed and the enormity of this deep-seated, tightly bound tapestry of personal, historical and ancestral pain. The various practices I cultivated over the years were not enough…
I relinquished tasks, social media, and electronic devices, retreating from all activity and places that triggered and touched those painful feelings. I spent hours in silence walking outside, visualising myself carrying in my arms these feelings.
I pleaded for help and support to hold the weight of this pain, from the rootedness of trees, from the spaciousness of nature, from the energy of the earth, and the wisdom of my ancestors.
For 21 days and nights I held this pain in care, non-judgment and tenderness, trusting the process and wisdom of Thay's teachings. It was from this place where the roots of my ancestral pain met the mindful energy of my spiritual lineage that there was a shift change, some release, and some insights.
A call to step forward
I recognised too that this is not a once-off event of healing, it is something that will resurface over-and-over, requiring my continuous lifetime of healing effort. Liberation will come from growing those insights so that it encompasses every single breath, in every minute, every day for the rest of my life.
I emerged from this period with a call to step forward to organise something to join the Plum Village community to collectively come together to witness, hold, and heal the pain and suffering being experienced all around and within us. This was the, "Taking refuge in the beloved community" event, where the contemplations on the Five Mindfulness Trainings were read out and brought tears to Sr Peace's eyes.
It was there that my own call to step into action manifested – a call to act towards individual and collective racial and social justice and healing.
This activism of healing goes beyond something that is out there that can be addressed by reading a book, attending a course, supporting a Black Lives Matter protest, or educating someone who is ignorant or racist. It is recognising that racism and social injustice is integrally woven in our ways of being, our daily living and acting. It is not a once-off event, it is our lifetime work – one we all need to do to reconstruct and cultivate a different society – a reconciled one.
Only from mining deep within ourselves, rooting around in the trauma buried deep in the black muddy soil of our life and ancestral history, that we can find the diamonds of our liberation and healing.
We need to be merciful, "to surrender cloaking ourselves from ourselves and experiencing a shared vulnerability that we've likely never felt before. It invites surrendering the fateful silence of centuries robbing us of our own humanity." (Larry Ward)
Our liberation is not an individual matter, it is a collective one. We inter-are, in Zulu this is the spirit of Ubuntu: "I am because we are."
"No mud, no lotus"
Thich Nhat Hanh is a daily reminder to me how the pain and healing of the last few months has connected me to my own personal journey to transform, re-construct and reconcile- to become "merciful."
I was born in a place, now calling itself the "rainbow nation" (South Africa), where centuries of pain and trauma of oppression, blossomed leaders like Nelson Mandela and Bishop Tutu, and touched the seeds of Gandhi's own awakening and transformation.
For me the wisdom of these land ancestors, the resilience of my indentured Indian blood ancestors – "outcasts" from Bodhgaya – and enslaved African ancestry, along with the practice of my spiritual ancestors, came together in a call to action for my own and collective healing.
Buddhists across Traditions
This energy has unfolded a collective called Buddhists across Traditions, uniting Buddhist and Mindfulness groups in service of racial justice, social equity and healing, and bringing our practices to blossom a radically different society.
The formative event of this collective was entitled "Breathe" featuring dharma teachers, Dr Larry Ward (Plum Village) and Amaragita (Triratna), a reminder that our breath has the power to transform, to connect, to heal us, and the Earth we belong to.
The call to collective action has resulted in Plum Village UK being joined by Jamyang, Gaia House, Amaravati, London Insight, groups like London Sitting Group, Colours of Compassion, Mindfulness Initiative and other mindfulness and Buddhist groups and networks, making an unprecedented step by coming together to support and promote Buddhist Across Traditions' events to honour UK Black History Month.
These curated events, assembling a diverse array of powerful, pioneering Afrikan descent monastics, elders, teachers and practitioners from various traditions, is the coming together to honour, learn from and celebrate Afrikan heritage contributions – all our ancestors.
Under the theme "/Coming Home/" these 4 events link racial healing and social justice to everyday living and remind us that we all come from Afrika – the origins of human evolution. Sunday evenings 19:00-20:30pm (BST):
More information on these events can be found in our events calendar.
These events are part of the journey, the dream towards collective healing and growing a beloved community.
We are not one. We are not the same. "Together we are one,' the title of the book collating Plum village writings that honour our diversity and connection, alludes to the multiplicity of our experience. That journey on the long walk home to freedom and liberation, for each one of us will be different, as in this moment the breath that each one of us is taking is different.
We may not have created the issues we face but we have the power to change it, both in ourselves and in the world around us – one mindful breath and step of action at a time. How will you breathe and heal? What is your call to action for collective healing to blossom this beloved community?
To cultivate a beloved community we need to grow love for all beings, the basis of that love comes from true understanding, according to Bishop Tutu, and when that blooms, only then can we have justice, which Cornel West reminds us, "Is the way we show love in public."

The logo of Buddhists across traditions is a clenched fist blossoming a lotus enclosed in a messy enso/zen circle. This is symbolic of the healing work we all need to do, individually and collectively, using the mud of our trauma (clenched fist) from which a lotus (love and compassion) blooms. The enso reminds us that liberation work is not as easy as baking a cake from a box; it is messy, painful, and continuous. There is beauty in pain and pain in beauty – this is life.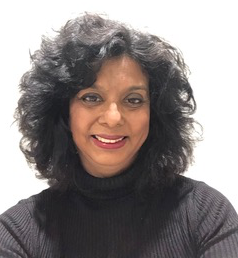 ---
Rehena Harilall, was born and grew up in South Africa. Since 1998, she has been living in the UK and practising Thich Nhat Hanh's teachings. She joined the Order of Interbeing in 2016, receiving the name "True Deep Source". practices with the Heart of London Sangha and Colours of Compassion Sangha.