The Global Climate Strike: supporting as a sangha
In France, the monastics set the tone, recognising the importance of this global moment by deciding to break the traditional rains retreat boundaries whereby monastics remain in one place for three months each year. They travelled to Bordeaux to support global strike there.
In London, members of The Heart of London Sangha, Wake Up London and Family Sangha came together. People gathered at St James Park nearby to ground themselves and establish a collective energy, before walking together in walking meditation towards Millbank by the Houses of Parliament and sitting together in meditation.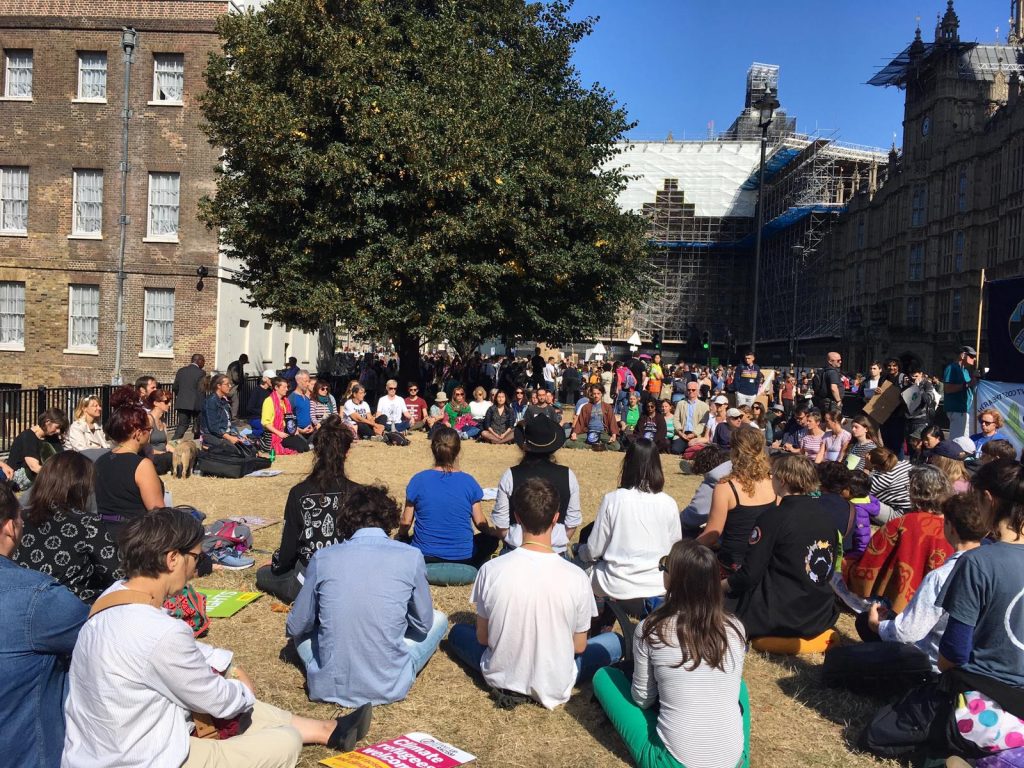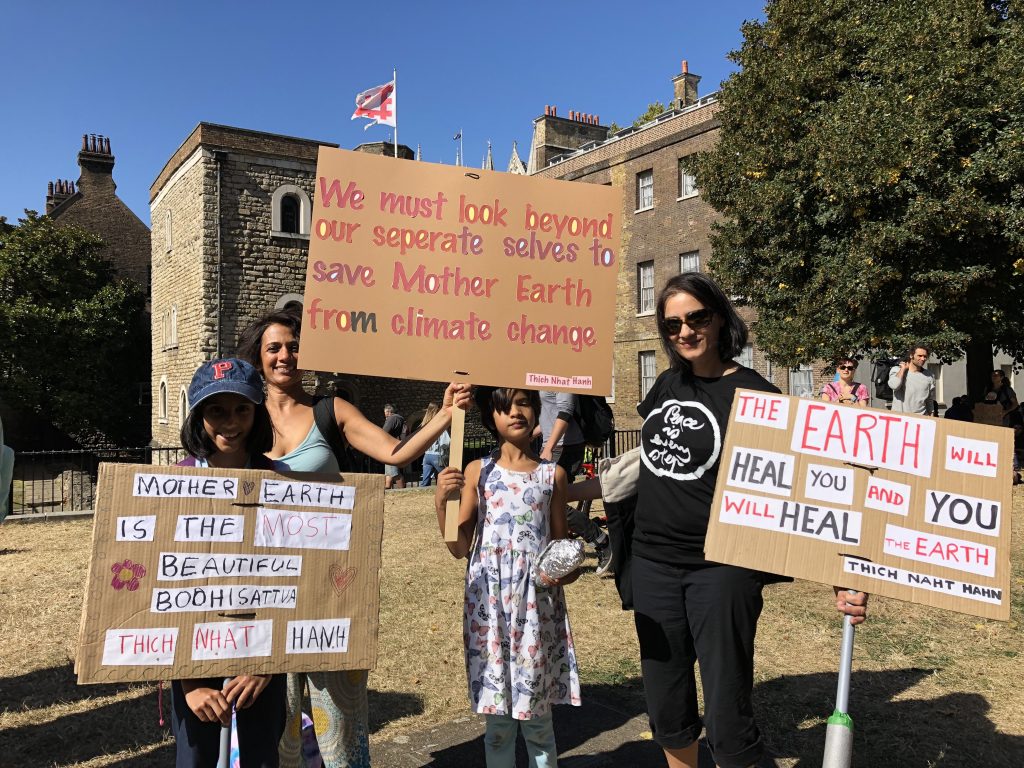 In Stroud, Sangha members organised a meditation at the Global Strike.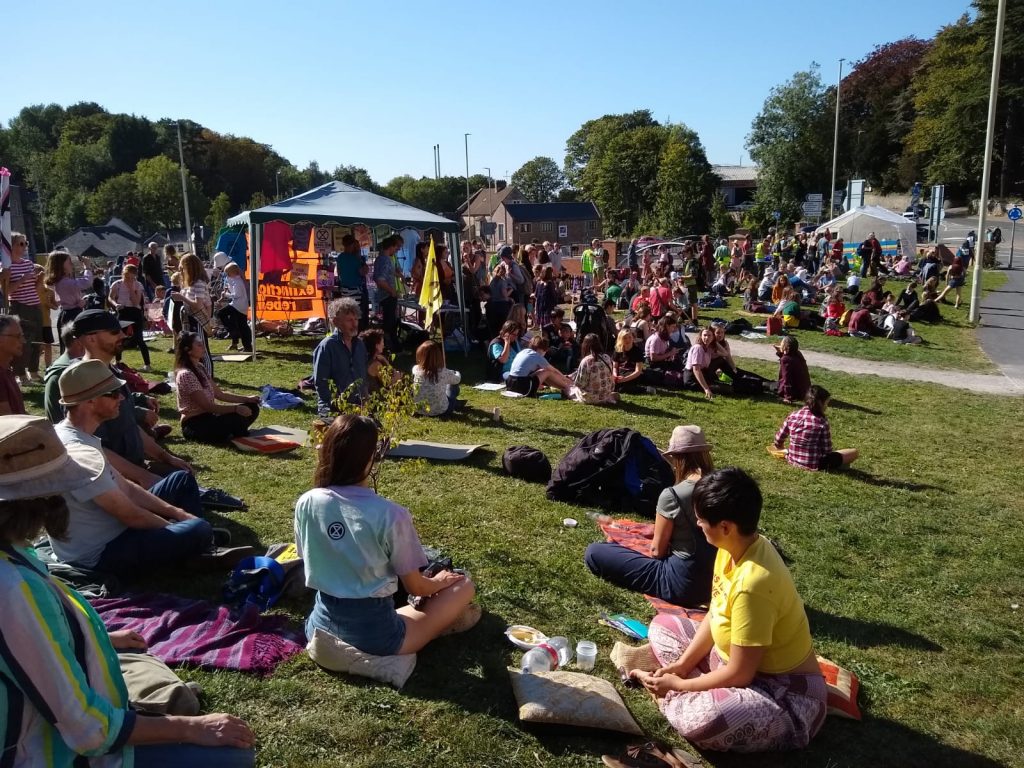 Our friends in the Bristol Sangha also came together to support the day of action.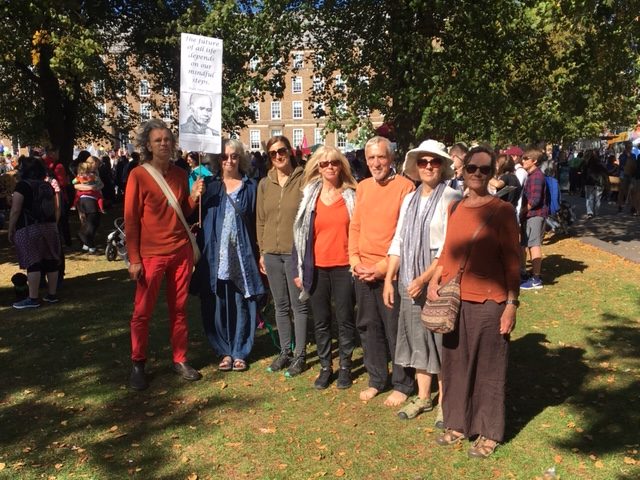 How did people find the experience?
"My first experience of going on an activist march was going on the official animal rights march in August and I was there for the love and compassion I felt towards animals. During the march I had my nine-year-old daughter with me as well, we noticed how easy it was to get caught up in the anger and the frustration and I very surprised by my reactions, how I sometimes got caught up in the collective energy. So I was really glad to find out that there would be sangha gathering, I wanted to express how I felt but not in an angry way, in a loving and compassionate way, expression compassion for Mother Earth and sharing that energy with my Sangha and maybe to help the other others around feel that energy as well. I did notice people looking at us and seeing that we were doing something very different and that's really good". Stin from Family Sangha
I wanted to come here to tell people to stop using plastic cups and help change the world. I enjoyed protesting, I wouldn't have been able to do it without my friends from Family Sangha. What do we want? Climate justice! When do we want it? Now! Uma aged nine from Family Sangha
"It's great to bring our practice energy to this environment, to be part of what feels like a collective awakening. When we practice here we bring peace, stability and ease. So we can take part with the same vitality, aliveness and enthusiasm but also with a peaceful energy and also with a deep reverence for the earth so there is a spiritual dimension." Kareem Gandour from Stroud Sangha
"I need to be here if I am to feel congruent in my actions, I am a teacher and I feel like I can only help to a certain point…. today makes me feel positive change is possible. I find that meditation practice gives the hope, the strength, the resilience, the joy and the discipline I need to continue to take positive action whether that be teaching or turning up for a climate strike. I feel these things need strength and love which I get from meditation and from the community. It's so important to do this as part of a community. So many people stopped and smiled and seemed moved." Marth Wright from Wake Up London
What's next?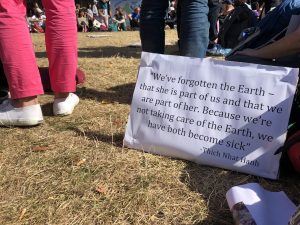 Responding mindfully to the climate crisis – online session.
What do the Plum Village practices have to offer in times of climate and ecological breakdown? What does an Engaged Buddhist response to our current situation look like? How can we contribute as UK-based individuals and sanghas? Susanne Olbrich, Vari McLiskie (Dharma teachers) Renuka Bhakta (Heart of London Sangha Facilitator) and Karim Manji (Wake Up London facilitator) will hold an online space to explore these questions.

Sunday 29th September 17:30-19:00 via Zoom – register here.

Mindful Peace Walk for Compassion
Friday 11 October 2019, Faith Bridge Lambeth Bridge
Join Plum Village Practitioners from the London Sanghas and beyond on Friday 11th October to celebrate Thich Nhat Hanh's Continuation/Birthday in Central London. We will meet on Faith Bridge (Buddhists Area) Lambeth Bridge at 10:00am prior to commencing our mindful walking meditation for peace clockwise from the Bridge to all sites held by Extinction Rebellion. We will stop offer mindful chanting at each location and pause for mindful lunch. Join for all or part of the activities – to keep posted as we progress here by joining the announcement and broadcasts here.
On September 20th people came together across the world in record numbers as the Schools Strike for the Climate movement asked the adults to join creating a Global Strike. In the UK and beyond, Plum Village sanghas came to support these gatherings, offering a collective energy of peace and compassion through collective practice.