Local Group | Leicester and Charnwood
Leicestershire Sangha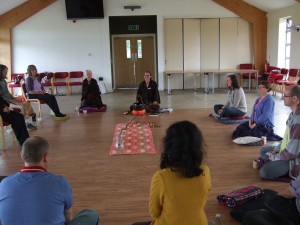 The Leicestershire Sangha consists of two groups: the Leicester group meets in the Quaker Meeting House, Queen's Road, Leicester.The Charnwood group meets in members' homes mostly in the villages around Loughborough.
Leicester sangha now meets on the second Saturday of each month. We start at 10.00 am and finish at 1.00. This includes sharing a mindful vegetarian meal together.The Charnwood group meets on the 1st and 3rd Mondays of the month from 7.30pm to 9.30pm.( informally at 7.30pm for a cup of tea, ready to start promptly at 8pm.) Everyone is welcome at both groups for some or all of the sessions.
We voluntarily share the facilitation of the evenings, which follow a regular pattern of sitting meditation, walking meditation, reading and Dharma sharing, which is an opportunity to benefit from each other's insights and experience of the practice.
Several times a year, there is the opportunity to join other sanghas from the East Midlands on a Sunday for Days of Mindfulness. These are usually held in the Village Hall in Normanton-on-Soar, near Loughborough. Everyone contributes to the hire of the hall and brings vegetarian food to share for lunch. A highlight of these Days is the walking meditation which we practice in the beautiful countryside surrounding the village.
We value the flexibility and openness of our sangha. Every meeting is open to all, regardless of experience. We welcome people from all traditions, including non-Buddhist ones, in the spirit of friendship.
If you would like to learn more about the Leicestershire Sangha, please contact us for a chat or for details of the next meeting nearest to you