Connecting with my Ancestors – Reflections from the Stourbridge retreat
We share below an excerpt, with permission, from a letter by practitioner Thanh Hà Duong on her experience of being on the Stourbridge retreat 2017.
A year ago, I was lost in thoughts and was suffering deeply with recurrent depression for the second time. I struggled to leave my room, see people, go to work and seek help. I found myself ashamed of having negative thoughts, lacking of my bubbly happy side and hesitant to reach out for help and locked myself at home. I felt so isolated from the reality and tried to seek for something from the internet with a hope of a miracle would appear or just a lost soul just like me that would understand what I was feeling in my head. However, the suffering was like a guiding direction for me to come across the teaching of Thay. I believe I was fortunate to have found the interview between Thich Nhat Hanh and Oprah in her Super Soul Sunday video that I found on YouTube. The four mantras of Love or True Presence that Thay wholeheartedly explained really moved me. I was deeply touched especially at the 4th Mantra: 'Darling, I suffer. Please help.' It was a wake-up call to my mind that it was okay not to be okay. When I suffer, the right thing to do is reach out, speak up and seek help. I offer my presence to my loved ones when they are in troubled times so they also deserve to give me a helping hand when I am in my uncertain state. I learnt that there is nothing wrong to receive help and ask for help. Even though I still find it difficult every now and then. I started to read more about Thay and the art of Mindfulness.
I decided to register to the 'Miracle of Mindfulness' Retreat last August in Stourbridge. It was my first experience with Plum Village tradition. The experience was like a warm hug and medicine to cure my pain when I needed it the most. I am thankful to be a part of Monkey Puzzle Family that we still now keep in touch and organise our online mindfulness evening monthly although each member does not live in the same regions and countries. I benefited so much from the down-to-earth Dharma Sharing that I am learning the art of sharing from the heart, loving speech and deep listening. I bring the practice back to my daily life post-retreat and it has helped me in my relationship with people around me. I guess Dharma Sharing is my favourite exercise that I learn from spiritual family members through their sharing and as well receive group support and how they bring the teaching to water the seeds of happiness and take care of the seeds of suffering.
The experience was like a warm hug and medicine to cure my pain when I needed it the most.
Hà on the Stourbridge Retreat 2017
Going abroad since the age of 17, sometimes I forget my identity and at times lose the touch with my own culture. There are a few times I have feeling of not being enough, inferior and an outsider in the multi-cultural country like the UK. My experience during the Miracle of Mindfulness touched me in many levels. I really enjoyed the meaning of the mindful bow as to greet and show respect to one another, the joint palm as a way of connect the heart and the body. When I was younger, I did those practice just to follow my parents' without a deep understand of the beautiful meaning behind it. I was deeply moved seeing retreatants from different backgrounds and traditions did the bow, the joining palms – mindfully – respectfully – the tradition that I am born and raised with but just no fully aware of its beauty. It is an element of my identity.
My highlight was the practice of Touching the Earth – when I was bowing my head and saw the image of my late grandmother that I never met looking down and smiling at me. I think that My Monkey Puzzle Family was the moment I felt fully healed and loved by the miraculous moment being in touch with my ancestor – that I know that I am her continuation and she is in me. Hence I have the full responsibility to love and to appreciate myself and take care of this body and mind more.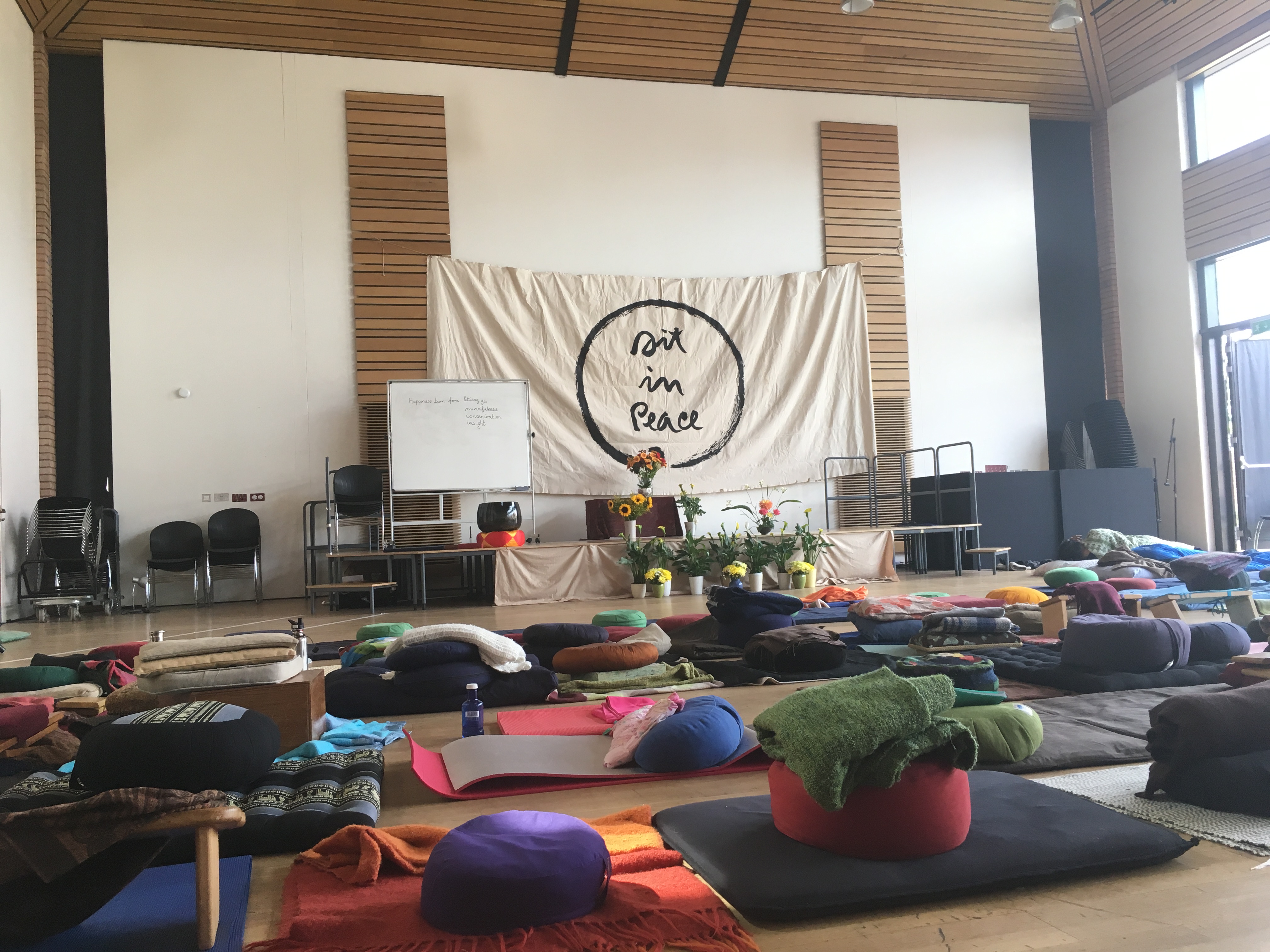 Before the experience, I only heard of Thay as Thich Nhat Hanh – a Zen Master that we both share a common root Vietnam and hadn't known much about his life story and how much he has done to my dear country and the world. I started to read more and dig into his readings on his life and his teachings. I was blown away and a sense of pride of having Thay in this life. Even though I am sad at the same time, his precious work and teachings are not popular and taught and shared or something that is widely spread and found in Vietnam.
Darling, I suffer. Please help
Thich Nhat Hanh
During my final year in university after returning from the one-week retreat and a few visits to London Mindfulness Hub to the Mindfulness Day organised by Guildford Sangha, Heart of London Sangha and Wake Up London, I was wondering a lot about how to maintain a profound mindfulness practice in daily life. I have to admit it is challenging to do it in my own when the surrounding world always moves in a fast pace. Due to commitment with academic study and part time job, I have not had frequent time to practise with the local Sangha Group. However, it has been an amazing gift that my Monkey Puzzle Family holds monthly online Mindfulness Evening session as a virtual hub to keep in touch, share our practice and a place to take refuge. I always come away from the session feeling much more calm and relaxed and I am starting to notice the benefits of Mindfulness practice in my daily life.
I learnt that the togetherness we have as family even online is very important in my spiritual life. Practising Mindfulness has helped me embrace my 'negative' emotions, the so called 'bad' seeds and take care of them when the unpleasant feelings arise and has kept me sane and survived and finished my University Degree and helps me grow a lot in my personal development. I feel mindfulness should be available to everybody."
Song by Thanh Hà Duong:
The 2019 Being Peace Retreat at Stourbridge 27th-31st May led by Sister Annabel and Brother Phap Lai is now open. More information and booking is here.
Do you want to share your practice experiences? Email hello@plumvillage.uk if you have a blog post you would like to write.