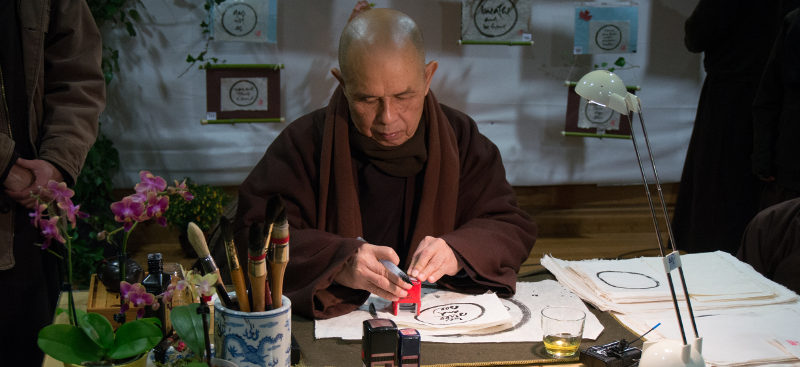 "My actions are my only true belongings. I cannot escape the consequences of my actions. My actions are the ground on which I stand."
Thich Nhat Hanh
Dear Friends,
We are very grateful for our volunteers helping us bring our offerings and fulfill our aim to spread Thay's teachings in the UK. Bringing their practice "off the cushion' and extending their loving service to our community and the world, our generous volunteers are sharing their energy, time and gifts to help our community thrive and grow!
If you would like to join us in the practice of generosity (Dana), help us to offer more practice opportunities and meet other practitioners too, we'd like to hear from you!
Below you will find specific roles we are currently looking to fill, so we are particularly interested to hear from people interested in these positions.
We are aspiring to build a volunteering sangha with realistic time commitments and clear roles. We view our work together as a practice and our intention is to focus on the tasks while also cultivating joy and connection through monthly Sangha meetings. 
UK Sangha coordinator 
Role: 
updating Sangha listings on Plum Village UK website
communicating with local Sanghas 
updating database of newly registered Sanghas and subscription renewals
liaising with global sangha directory coordinator
Profile: Attention to details, familiarity with Excel data spreadsheets, communication skills
Time commitment: 1-2 hours per week 
Social Media volunteer 
Role: 
helping with creating and sharing content to our Facebook, and Instagram accounts
assisting in sourcing images, quotes and content congruent with Plum Village UK communications strategy
promoting events organised by Plum Village UK
Profile: Strong communication and collaboration skills, background in the Plum Village tradition and mindfulness practice, comfortable with key social media channels.
Time commitment: 2-3 hours/week 
Community Engagement Volunteer 
Role: 
helping with creating regular campaigns engaging our members and community of practitioners
researching regular engagement opportunities during the year (events such as Thay's continuation, Vesak, Earth Day, etc.) and working together with comms team to create campaigns around these events
communicating with community members and gathering contributions
Profile:  planning and organising skills, strong communication skills, (desirable) project management experience 
Time commitment: flexible, ranging from 1-4 hours/week
Graphic Design Volunteer 
Role: 
helping with designing visuals for our courses and retreats 
creating web visuals and images for our website and social media channels/newsletters
Profile: background in graphic design in a charity setting, flexibility and reliability 
Time commitment: flexible 
Web administration Volunteer 
Role: Supporting our web team with: 
Adding and changing web-site pages
Adding and changing web-site forms
Testing changes, running reports
Profile (desirable): experience with WordPress pages and forms
Time commitment: flexible (to be discussed) 
How to apply?
If any of these roles feel like a good match with your talents, skills and interests, we would love to hear from you. Send an email to feedback@plumvillage.uk, including the title of the position and a brief answer to the following questions. Feel free to share anything else that you think might be relevant and helpful. 
Which position are you interested in?
How do your skills/interests and experience match the role? Feel free also to share about other skills that may be useful for that role
What is important for you as a volunteer? What are the benefits and challenges of that role for you?
Which Sangha are you part of?
We know you are there and we are very happy!