Photo by Sharon Leighton
Welcome to our Mindful Morning on Sunday 2nd October 2022 (10-12 UK time), open to everyone with an interest in the Plum Village mindfulness practice:
Outside in, Inside Out – Growing a Beloved Community
We are living in a pivotal time:- emerging from a long period of physical distancing, we are facing the threat of extinction, increasing polarisation, growing prejudice and discrimination and an ever-widening gap between rich and poor. Many of us desire communities that are more connected, inclusive and compassionate. This is a personal reflection of how the journey inwards, towards personal transformation using mindfulness practices, yields insights into re-constructing, reconciling and cultivating beloved communities. The community we desire is built from both individual and collective action. Meditation, music and sharing.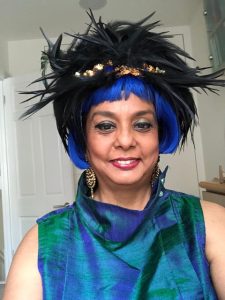 Rehena Harilall (Dr) celebrates African and Indian heritages. She was born and grew up in South Africa (SA) during the apartheid era in Kwazulu-Natal, the land of the Amazulu people, a place where her indentured ancestors were brought to grow sugar cane. She grew up immersed in spiritual practices of the community she was brought up in, Buddhism, Hinduism, Islam and African spirituality From childhood she has been engaged in social and racial justice action. Post -democratic elections in SA she was engaged in many reconstruction and development projects, including the Truth and Reconciliation process. She has been based out of the UK since 1998 and works internationally as a management consultant. She has been practising in the Plum Village tradition since 1998 and in 2016 she received the 14 Mindfulness trainings into the Order of Interbeing, with the name "True Deep Source" She also practices in the Insight and Tibetan traditions – her Tibetan transmitted name is "Noble Minded Great Bliss" In 2019 she founded "Buddhists across Traditions " (BaT) the only UK based Buddhist BIPoC/Global Majority centred collective in service of racial healing, social equity and justice. She is currently engaged in various revitalisation and re-pairing projects in Kwazulu-Natal and Uganda focusing on the renewal of marginalised rural spaces most impacted by climate change