On Earth Day, we gather across traditions to renew and honour our connection to the earth, reminding ourselves we belong to the earth.
We meet at sunrise and sunset for 30 min to mark this day with practices of sitting, touching the earth and the option to choose your own practice to connect with the Earth.
Sunrise Meditation: 06:00 -06:30
Sunset Meditation: 20:00-20:30
'WE ARE THE EARTH
At this very moment, the Earth is above you, below you, all around you, and even inside
you. The Earth is everywhere. You may be used to thinking of the Earth as only the
ground beneath your feet. But the water, the sea, the sky, and everything around us comes
from the Earth. Everything outside us and everything inside us comes from the Earth. We
often forget that the planet we are living on has given us all the elements that make up
our bodies. The water in our flesh, our bones, and all the microscopic cells inside our
bodies all come from the Earth and are part of the Earth. The Earth is not just the
environment we live in. We are the Earth and we are always carrying her within us.
Realizing this, we can see that the Earth is truly alive. We are a living, breathing
manifestation of this beautiful and generous planet. Knowing this, we can begin to
transform our relationship to the Earth. We can begin to walk differently and to care for
her differently. We will fall completely in love with the Earth. When we are in love with
someone or something, there is no separation between ourselves and the person or thing
we love. We do whatever we can for them and this brings us great joy and nourishment.
That is the relationship each of us can have with the Earth. That is the relationship each
of us must have with the Earth if the Earth is to survive, and if we are to survive as well.'
~ 'Love Letters to Mother Earth' by Thich Nhat Hanh, available at the bookshop.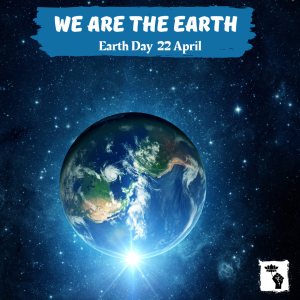 How to attend
No registration required. Save the date, and add this link to your calendar to enter the live, online meditation sessions:
https://tinyurl.com/wearetheearth
Alternatively, join via the button below at the time of the sessions:
Join now