A five-day retreat from October 24th – 28th offering deep mindfulness practices, relaxation, and the support and connection with others in a living sangha.
With lay Dharma teachers Vari McLuskie and Teri West
On this retreat we will have the opportunity to
Relax, smile and enjoy being present 
Enhance our awareness of body, feelings and mind 
Be inspired by ancient teachings on mindfulness and contemporary personal stories
Identify how to be more intimate with and kind to ourselves
Understand how to deal with anger, jealousy and trauma
Nurture the best qualities in ourselves
Be supported to heal and transform difficulties
This retreat is suitable for anyone who has a strong intention to nourish and heal themselves with their mindfulness practice, whether experienced or not, and from all faiths or none.
Teachers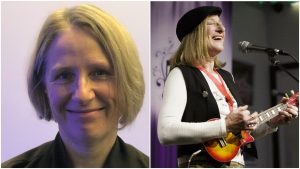 Vari McLuskie
Vari was ordained by Zen Master Thich Nhat Hanh in 1995 into the Order of Interbeing and as a lay Dharma teacher in 2012.
Vari arrived home on her first Plum Village mindfulness retreat with Thich Nhat Hanh in 1990. Life became brighter, calmer, more enjoyable and understandable. She began to recognise how, supported by a mindfulness practice community, she could cultivate peace, love, and understanding in herself every day. It was clear that developing these qualities in herself also truly benefitted others.
She put mindfulness practice and sangha at the centre of her life. Bit by bit; building her practice, accepting her shortcomings, encouraging herself through the difficulties – perceived and otherwise.
Through difficult times in her life she has practiced seeing that there cannot be happiness without suffering ("no mud, no lotus")– through the premature death of a beloved friend, through the sudden deaths of my parents, through the challenges of parenthood, through work and health challenges.
Vari has been an ordained Dharma teacher since 2012 and combines this responsibility with work as a Strategic Consultant. She has shared mindfulness in corporate settings, with female offenders and victims of sexual abuse as well as through Plum Village UK retreats and the Be Calm, Be Happy courses which she co-developed. Vari is based in the Midlands having lived many years in London.
Teri West
Teri was ordained by Zen Master Thich Nhat Hanh in 2000 into the Order of Interbeing and as a lay Dharma teacher in 2016.
Teri has been a student of Thay's since 1988 and is a member of the North Devon Sangha. She is a storyteller, singer, musician, part-time poet and sometime clown. Teri was ordained into the Order of Interbeing in 2000, receiving the Dharma name 'True Door of Virtue' (chan duc mon) and the Lamp Transmission as a Dharma teacher in 2016.
Teri has pursued various occupations since leaving home as a teenager. By her mid-40s she began working as a professional storyteller and singer and as a member of an improvising clown group in the Nose to Nose school of clowning. She currently takes to the stage at every opportunity, using song to take a Dharma message into the unlikely environment of the world of cabaret and co-led in February and March 2018 two sold-out weekend courses 'Clown and the Art of Mindfulness' at the European Institute for Applied Buddhism in Germany.
Teri was fortunate enough to be invited to Plum Village in 1988 as a guest, with friends of Thay who had worked with him in the '70s on founding a charity for Vietnamese refugees.
The 1988 experience was powerful; Teri bought 'Breathe, you are Alive!' which, together with 'The Miracle of Mindfulness' brought buddhism into a grounded, practical form that Teri could relate to, having previously read somewhat intellectual, complicated theories. She has been a student of Thay's ever since, working on organising retreats, particularly those that welcome families, founding the westcountry sangha, becoming a member of the Core Community (Order of Interbeing) in the year 2000, and ordained as a Dharma teacher in 2015.
Experiences from a previous retreat with Vari and Teri
How to attend
Book via Brown Paper Tickets
Book now