About this Course
In the book Understanding Our Mind, Venerable Master Thich Nhat Hanh quotes the 12th-century Vietnamese Zen Master Thuong Chieu: "When we understand how our mind works, the practice becomes easy."
In this 8-week online course, Br. Phap Vu will share some of the ancient and transformative Buddhist teachings on the mind. Through these teachings, we may learn to understand ourselves in ways we might not have been aware of.
Buddhist psychology can help us to enquire into the nature of our thoughts and mental formations. In this class, we will explore some of the earliest Buddhist teachings found in texts known as the Nikayas and then the much later teachings of the Manifestation-only school
Donations
The minimum donation for this course is £100 which will cover admin costs and raise funds for Plum Village UK and the Being Peace Centre Project. Anything above that amount will be warmly welcome. Please donate generously when you select a ticket, at the point of registration. There are a few supported places available for those with no income or savings and we respectfully ask that these places are limited to those who are unable to afford the minimum donation.
Community
This educational course is open to the general public and members of the Community of Interbeing. We strongly intend to support people from socially marginalised groups and will endeavour to help you feel safe and included throughout this course. Being a member of the Community of Interbeing supports Plum Village UK to build mindful communities and share the teachings of Thich Nhat Hanh. You can become a member here.
Course Leader
Brother Phap Vu is the course leader.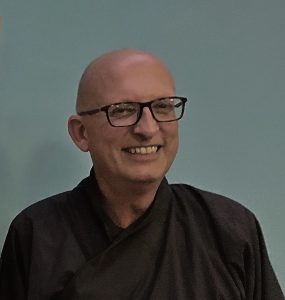 Brother Phap Vu is committed to the monastic path and was ordained in 2003 by Venerable Zen Master Thich Nhat Hanh in Plum Village, France, with the name Thich Chan Phap Vu (True Dharma Rain). In 2011, he was ordained as a Dharma Teacher. Presently, he delves into Buddhist psychology as well as Buddhist history, and enjoys connecting with people and communities, helping them along their path however he is able.
You're very welcome to join us, we hope you enjoy the course!
How to attend
Book now