We warmly invite you to this brand new, mindfulness course for neurodiversity (including ADHD, PTSD and neurodivergent life experiences) – from the comfort of your own home, held on Zoom.
Sylvia Clare and David Hughes are experts in neurodiversity and mindfulness; they offer this course based on their lived experiences of the benefits of mindfulness practice, rooted in the tradition Thich Nhat Hanh (often referred to as 'the Father of Mindfulness', nominated for the Nobel Peace Prize by Martin Luther King Jr. and author of numerous best-selling books).
In the 6 sessions, you can learn how to make the practice of mindfulness work for you; you may find that the course helps to ease painful thoughts and emotions, and you will also be encouraged to experiment with mindfulness practices to bring joy into your daily life.
We hope you can join us. There will be a maximum group size of 12 people, for a light-hearted and deep exploration of mindfulness together, in a friendly, welcoming atmosphere.
This is a live, interactive course, not recorded sessions to download.
Course content
The six sessions of the course explore the following themes:
Stopping and calming;
Turning to the positive;
Loving communication;
Nourishing happiness;
Interdependence and community;
Guidelines for a happier life
Reported benefits
Increased enjoyment of life
Increased ability to be calm and relaxed
Increased control of emotions such as anger and anxiety
Improved sleep quality
Fewer feelings of anxiety and low mood
Please note, you will be using a computer/laptop, iPad or phone to access each session, and will need a functioning camera and mic.
Course schedule
This course is taught over six sessions from 27th March to 1st May 2021.
Each class is 2 hours long from 10-12 pm on Saturdays.
About the leaders
Sylvia Clare and David Hughes recently published their new book entitled 'Living and Loving with ADHD and Neurodiversity' and the course will draw on much of the wisdom from this book (you don't need to purchase it for this course, but it helps!)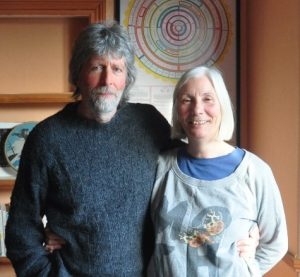 Sylvia Clare and David Hughes take great inspiration from Thich Nhat Hanh's expression: "enjoy your practice" i.e. making mindfulness work for each unique individual, so it can even be fun. They are both experienced teachers over many years and committed to living mindfully in all that they do. They are both really excited to offer you this wonderful new course.
Cost
Tickets are from £30 to £160 (depending on income).
What further information will I receive?
All our course attendees will receive "Joining Information" in a confirmation email once they have purchased their ticket. This will confirm the information on the class timings, and how to access the online course.
What is your cancellation policy?
If you cancel your booking at least 7 days before the start of the course we will refund your full course fee minus a £15 administration fee.
If you cancel your booking less than 7 days before the start of the course we will issue a 50% refund of the course fee.
Once the course has started no refunds will be issued.
If you have any questions please contact Sylvia: sylvia.clare@btinternet.com
How to attend
Please book via Eventbrite
Book now