Welcome to our next Mindful Morning on Sunday 6th June (10-12 UK time), open to everyone with an interest in the Plum Village mindfulness practice:
'The Ethics of Interbeing – Connecting our practice with the World'.
All sangha friends are welcome to consider how we can engage the practice of mindfulness for personal and collective awakening.
Michael Schwammberger will guide the morning, offering insights into the practice of mindfulness with guided meditation, a Dharma Talk and an opportunity for questions and answers.
About Michael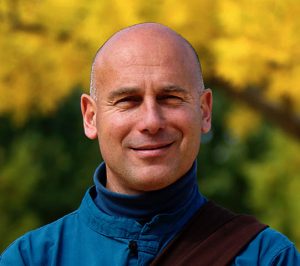 Michael was born in England in 1964 and grew up on the beautiful island of Ibiza. In 1992 he began his practice within Buddhism at Gaia House, The Barn and Sharpham College, in England. In 1996 he came to Plum Village, the centre of Zen Master Thich Nhat Hanh, inspired by his book Peace is Every Step and in February 1997 he became a monk. He was a monk for 15 years, accompanying Thich Nhat Hanh on his international teaching tours and living in the different monasteries of Plum Village. He was the abbot of one of the Plum Village monasteries for 5 years. In 2012, after a sabbatical year, he decided to return to lay life and now continues to guide the practice as a lay teacher within the tradition of teacher Thich Nhat Hanh.

Schedule
9:50 Arrival
10:00 Welcome and intro
10:05 guided meditation (20 min)
10:25 Talk (35 min)
11:00 Break (10 min)
11:10 Q&A (40 min)
11:50 Silence (5 min)
11:55 Goodbyes
This is a free event, open to all, and donations are welcome.
We hope you can join us.
How to attend
Please register to sign up for our mailing list and receive the Zoom link.
Register