Painting by Joy Magezis


Mindful Morning: Living Long-term in Plum Village
We will begin with a guided meditation connecting us with Thay and Plum Village – his creation of a refuge and deep practice centre. Then Joy will share about living as a long-term retreatant in Plum Village, including excerpts from poems she wrote while there. Joy found living in plum Village to be nourishing, transformative, challenging, and an inspiring meditative experience. She recently returned from nearly five weeks in Plum Village and wants to share
that beautiful energy of unconditional love. After that, we will have time for questions and for others to share their Plum Village experiences.
About Joy Magezis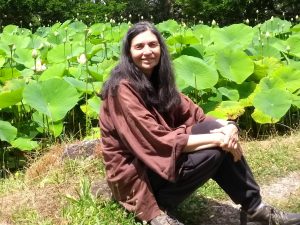 Joy grew up in a working-class, Jewish family in Brooklyn NY right after the World War II Holocaust. This, coupled with her being dyslexic, developed a sensitivity within her concerning issues of oppression. She became active in Civil Rights, Anti-Vietnam War and Women's Movements. It was through her commitment to social activism and her desire to deepen her existing meditation practice that Joy connected with Thay and Engaged Buddhism, after she permanently moved to the UK. Joy received the 5 Mindfulness Trainings from Thay in 1999 and was ordained into the Order of Interbeing by Sister Jina in 2003 in Lower Hamlet, Plum Village. She was given the name 'True Wonderful Commitment' and has been active in the Cambridge Sangha for over 20 years. In 2018 and 2019 Joy lived
as a long-term retreatant in Lower Hamlet. Previously, she returned many times as a short-term retreatant living in Upper, Lower or New Hamlets.
Joy's poems have often appeared in Here and Now and she is an internationally published author of fiction, nonfiction and poetry. She is also a grandmother, Reiki Master Teacher, painter and retired college lecturer.