Our talk for this Morning of Mindfulness is offered by UK lay dharma teacher Dene Donalds.
'There is no happiness without freedom, and freedom is not given to us by anyone, we have to cultivate it ourselves" from Be Free Where You Are by Thich Nhat Hanh. 
Dene's talk will combine Thay's teachings and stories from Dene's experience in offering the practice in prisons; to illustrate how we might liberate ourselves from our habit energies in any situation in which we find ourselves.
About Dene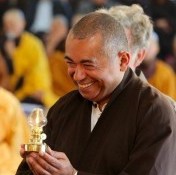 Dene (True Ever-Present Peace) was ordained by Zen Master Thich Nhat Hanh in 2007 into the Order of Interbeing and as a lay Dharma teacher in 2016.
Dene has been practicing and studying Buddhist meditation and the Dharma since 1995.
He visited Plum Village for the first time in June 2001. Deeply moved by the practice and teachings of Thich Nhat Hanh, and the Plum Village spiritual community, he chose to receive The Three Jewels and Five Mindfulness Trainings of the community.
In 2007, he received the Fourteen Mindfulness Trainings and joined The Order of Interbeing. Since this time Dene has become more involved in engaged Buddhism; offering Buddhist Chaplaincy within Prisons, Secure Mental Health Hospitals and more recently offering mindfulness to refugees and asylum seekers within Inner City Manchester.
In 2016, Dene was offered the Lamp Transmission and became a lay Dharma teacher .
How to attend
Please register to sign up for our mailing list and receive the Zoom link.
Register