Course overview
Be Calm, Be Happy provides a gradual introduction to mindfulness and meditation and key teachings on positive happy living over six sessions, which will be covered throughout the retreat. The course includes guided mindfulness exercises and meditations, group discussions and practical exercises led by experienced facilitators in a warm, friendly atmosphere, with a maximum of 15 people.
Information about the course and retreat
This retreat will cover all six sessions of the Be Calm Be Happy course, and includes all accommodation and meals from supper on Thursday evening to lunch on Sunday afternoon, as well as refreshments in between. All materials for the course will be provided. The retreat is held in the beautiful setting of Holland House http://www.hollandhouse.org/
Please do not contact them with any queries, but direct these to the course leaders.
All meals will be vegetarian so please advise on the booking form if you have any further dietary requirements.
Course content
Session 1: Stopping and calming
Session 2: Turning to the positive
Session 3: Loving communication
Session 4: Nourishing happiness
Session 5: Interdependence and community
Session 6: Guidelines for a happier life
Reported benefits
Increased enjoyment of life
Increased ability to be calm and relaxed
Increased control of emotions such as anger and anxiety
Improved sleep quality
Fewer feelings of anxiety and depression
Who can attend
This retreat is suitable for beginners, as well as those wishing to refresh their mindfulness practice. It is suitable for those of all faiths and none. Our course participants come from a wide range of backgrounds. Many of our participants are keen to learn new ways to look after their own well-being and to identify positive responses to challenging situations.
Please be aware that the retreat can raise emotional issues. Whilst mindfulness can be helpful with ordinary anxiety and low mood, this retreat is not suitable for people with extreme anxiety, severe depression, psychosis or personality disorder. The retreat is not intended to provide a therapeutic environment, and is not a substitute for ongoing medical support.
Commitment
Participants are expected to attend the full retreat from Thursday 5pm to Sunday 3pm. If you will have difficulties arriving on Thursday by 5pm, or in time for supper, please let us know. The first evening session will begin at 8pm and we expect everyone to have arrived in good time before this.
Dates and times
The course and retreat runs from Thursday 7th March to Sunday 10th March 2019. Before booking please make sure you are able to attend the whole retreat.
Arrival on Thursday from 5pm, first activity will be supper at 6.30pm.
Please advise if you will not arrive in time for supper (and make your own arrangements to eat).
Evening meeting and introductions at 8pm.
Friday and Saturday begin at 8am with optional Mindful Movements or breakfast at 8.30am. There will be sessions throughout the day (all of which you are expected to attend) punctuated with regular breaks and some free time to enjoy the gardens. Each evening will end by 9.30pm.
Sunday will begin at 8.30am (Mindful Movements) or 9am (breakfast).
The retreat will end after lunch on Sunday at 3pm.
You will be sent a more detailed programme and timing schedule nearer the time.
Course leaders
The course leaders are Dr. Lauri Bower and Clare Belbin-Carlile.
Lauri has been practising meditation for 30 years and met Thich Nhat Hanh's teachings in 2006, from which point she committed to putting mindfulness practice at the centre of her life. In 2008 she began researching a Ph.D. on Thich Nhat Hanh and his teachings of mindfulness and Engaged Buddhism. With her Ph.D. complete Lauri began teaching mindfulness based stress reduction (MBSR) courses and is delighted to bring this experience to a course devoted to the Plum Village mindfulness tradition. Mindfulness has become a crucial aspect in Lauri's life and she has experienced firsthand the healing and transformational aspects of this practice. Lauri has also been teaching mindfulness for 5 years and is continually inspired by the positive changes that it can bring. She has 15 years experience of running retreats.
Clare first encountered Thich Nhat Hanh's teachings through his books and subsequently retreats from 1998. She became increasingly committed to her daily practice with the support of the Sanghas in York and Kirkbymoorside, and it is now a central part of her life. The Plum Village tradition has enabled Clare to work with the demands of a complex life managing a large shared household to benefit the needs of adults with special needs, alongside bringing up her own four children. She provided guidance and teaching for young interns over many years. Clare's mindfulness practice is deeply rooted in her daily practice which includes drawing and painting in the Helmsley Walled Garden. Clare studied Fine Art at Newcastle and completed her postgraduate degree at Edinburgh. Clare's practice transforms and enlivens everything she does.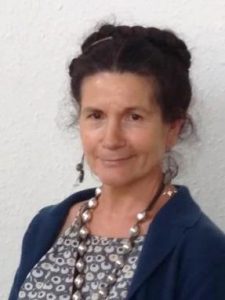 Lauri and Clare usually run the Be Calm Be Happy course in Yorkshire.
Tickets and pricing
£295 – Supported Ticket, unwaged
£325 – Concession Ticket, low income
£360 – Standard Ticket (break even price)
£395 – one Standard Ticket, plus enabling a Concession place
£425 – one Standard Ticket, plus enabling a Supported place
We ask you to consider carefully what you can realistically afford without depriving yourself and your family or dependents. Supported and Concession Tickets are intended for those who are unwaged, have a low household income and/or limited funds available. In offering a range of ticket prices we aim to make the retreat available to as many people as possible.
All ticket prices include all meals from supper on Thursday evening to lunch on Sunday afternoon and single or twin accommodation (please express a preference and we will do our best to accommodate this). If you want to share with a specific person please state their name.
How to attend
More information and booking via eventbrite
Book now