Course Overview
Be Calm, Be Happy provides a gradual introduction to mindfulness and meditation and key teachings on positive happy living over three weekly classes. Each class includes guided mindfulness exercises and meditations, group discussions and practical exercises led by experienced facilitators in a warm, friendly atmosphere.
Course content
Session 1: Stopping and calming
Session 2: Turning to the positive
Session 3: Loving communication
Session 4: Nourishing happiness
Session 5: Interdependence and community
Session 6: Guidelines for a happier life
Reported benefits
Increased enjoyment of life
Increased ability to be calm and relaxed
Increased control of emotions such as anger and anxiety
Improved sleep quality
Fewer feelings of anxiety and depression
Who can attend
This course is suitable for beginners, as well as those wishing to refresh their mindfulness practice. It is suitable for those of all faiths and none. Our course participants come from a wide range of backgrounds. Many of our participants are keen to learn new ways to look after their own well being and to identify positive responses to challenging situations.
Commitment
Participants will gain most from this course if they are able to attend all the classes and to do the suggested homework and home practice in between. Creating a stable and strong practice of mindfulness is a habit that needs regular, ideally daily, practice. If you know ahead of time that you cannot make a session then please discuss with your course leader so that you can understand the content of the missed session. If you have to miss a session at short notice please arrive early for the next session so that you can speak to the Course Leader ahead of time.
Course schedule
This course is taught over 3 weeks from Saturday 27th October to Saturday 10th November 10am – 2pm.
Please make sure you are able to attend each week. We reccommend that you aim to arrive 10 minutes before each class is due to start (i.e., by 9.50am). Please also bring a packed lunch with you.
Course leader
The course leader is Sylvia Clare.
I have been teaching mindfulness (from MBSR, Christian, Buddhist and other teachings depending on preferences of attenders) on the Isle of Wight since 2000 and before that in South London since 1996.
I first came across Thich Nhat Hanh through his books which brought much of the Dharma to life for me. I started attending the retreats in 2012 and getting involved with the order in 2014.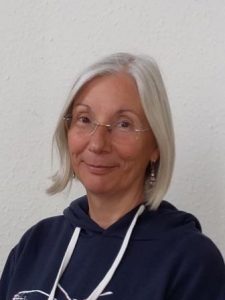 Ticket pricing
We ask you to consider carefully what you can realistically afford without depriving yourself and your family or dependents. Supported and Concession Tickets are intended for those who are unwaged, have a low household income and/or limited funds available. In offering a range of ticket prices we aim to make the course available to as many people as possible.
£30 – Supported Ticket, unwaged
£60 – Concession Ticket, low income
£95 – Standard Ticket, break even price
£130 – one Standard Ticket, plus enabling a Concession place
£160 – one Standard Ticket, plus enabling a Supported place
How to attend
Booking and more information via eventbrite
Book now